The 2019 Annual International Conference on ADHD will be held November 7 – November 9, 2019 in Philadelphia. The conference is organized by ACO, ADDA and CHADD, three organizations dedicated to the empowerment of people impacted by ADHD and associated challenges.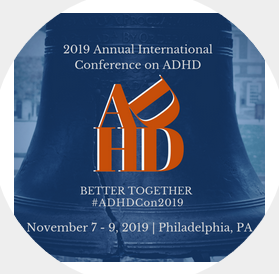 I am pleased to announce that my colleague, Melissa Knight, and I will be presenting a conference session on the role of ADHD coaching in support of healthy lifestyles. This is an important and timely topic related to research done by Dr. Russell Barkley and the impact of ADHD – and specifically self-regulation – on health outcomes.
Keynote speakers at the conference include Dr. Anthony L. Rostain, Dr. Ross Greene, Dr. Roberto Olivardia, and Maiken Scott. As there will be many fabulous opportunities for learning and connection, I invite you to check out the conference offerings and attend if you can. Spread the word!